PRINCESS OF MARS, from THE ASYLUM,is being sold as the inspiration for Cameron's AVATAR.
The film is inspired by the E.R. Burroughs serial story "A Princess of Mars" in 1911 ,which first introduced the character of John Carter.Carter is whisked from Earth and ends up on "Barsoom"(what the natives call Mars).
How closely it follows remains to be seen.
Antonio Sabato Jr does resemble the description of Carter ( over six foot, close cropped hair ) and Traci Lords makes a fetching Princess, but where are the Multi armed Tharks?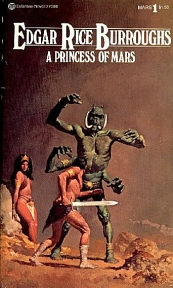 We will find out december 29,2009 when the 90 minute direct ot video feature is released to DVD.
****
Disney is purportedly making an animated version for 2012 .
In the past, Bob Clampett tried to interest MGM into an animated version, and Harryhausen had also expressed a desire to visualize the tales.
in the 80s, Tom Cruise ' name had been bandied about for the role of Carter (so much for height) ,and the rights have bounced from Disney to Paramount and now Disney/Pixar for the now in production film .